Violet evergarden is hands down the most emotional anime I've watched.
Man those feels hit you hard.

Set in a fictional European-like country, the story follows the life of a young ex-military girl named Violet Evergarden and her rehabilitation to normal life.
"No letter that could be sent deserves to go undelivered."

– Violet Evergarden.
Violet Evergarden Plot Synopsis
Orphaned at birth, she grew up in the volatile environment of war. She learned how to survive by killing those who wanted to harm her. She is captured and gifted to Major Gilbert Bougainvillea as a birthday present, to be used as a tool. Instead, he treated her humanely. Taught her everything from language to military strategy. Became the first person she bonded with. Unfortunately, at the end of the war, she lost both her arms and Gilbert.

She woke up to her new prosthetic limbs and was started a job at a mailing company as an auto memoir doll. (Auto memoir dolls were women who wrote letters for people who couldn't read or write).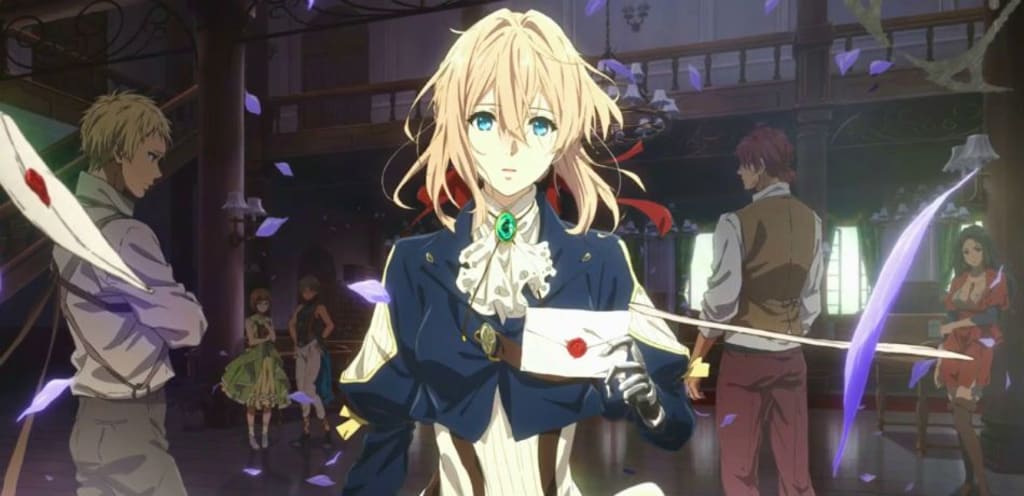 The story is beautiful and heart wrenching. As we watch her develop from a military tool with no knowledge of human emotions to someone who felt human emotions deeply and could articulate them into words for others who couldn't express –
Trying to learn the meaning of the last words Gilbert said to her – I love you.
Violet's role as an auto memoir doll plays a huge part in her growth. It takes up a significant place in her heart. It helps her create and understand bonds which nurture her ability to empathize.
Violet Evergarden : The Most Emotional Anime
Violet Evergarden Verdict
What makes the Violet Evergarden so amazing is how accurately it depicts the effects of war on both civilians and army personnel. It deals with serious issues like PTSD, addiction, survivor's guilt, and other several mental health issues. The depiction of human emotions in the animation is mind-blowingly accurate. The animation, overall, is very polished and gorgeous. The fictitious story is amazingly grounded in reality and even though it has a very sad and emotional undertone to it, it is a very uplifting story about coming to terms with reality and the emotional baggage that life gives us